There are people who look very good and there are no stars on instagram, no models and no influencers. They are simple workers and they are proud of their profession.
Below we see 11 people from different professions who could always be models or on the cover of fashion magazines.
RUO YAN WORKS AT A BARBECUE STAND.
Ruo Yan works at a barbecue stand in Taiwan. She was filmed by Internet users while she was grilling. Yan immediately became popular thanks to his pretty appearance.
She is 36 years old and is a part time model. Sometimes she helps her family serve customers in their cafe.
AIMEE STANTON, A PLUMBER
Aimee Stanton is 25 and lives in Australia as a plumber. When she was a teenager, she enrolled in beauty school "because her friends did". But later, as she worked for her father as a laborer, she realized what her real passion was.
FRAN SUAREZ, A NURSE
Fran Suarez is a nurse and works in a hospital in Madrid. This Spanish guy enjoys dancing, working out at the gym and spending his time on instagram.
BLAYZE WILLIAMS, TRUCK DRIVER
Blayze Williams lives in Australia. She has been driving trucks since the age of 19. Sometimes Blayze has to show her driver's license to prove that such a pretty girl like her is actually a truck driver.
JONAS, A PILOT
Jonas is from Munich and is 32 years old. He loves to travel, which is why he decided to become a pilot. In addition, he is passionate about sports and even works as a personal trainer.
JHIAWEN CHENG, A TEACHER
Jhiawen Cheng studies at Chinese Culture University and teaches an additional course in economics. Once, a photo of her giving a lecture was posted online and she became popular overnight. Thousands of people followed her Instagram account and she received many offers to participate in talk shows and commercials. But Jhiawen Cheng doesn't plan to change her life drastically — she wants to teach and finish her education.
ANDREY DROZDOV, LIBRARIAN
Andrey Drozdov works in the Anna Akhmatova smart library. He won the title of "Best Librarian of Moscow 2018".
RINO SASAKI, A TRUCK DRIVER
Rino Sasaki lives in Japan where she helps her father and drives a truck. She used to be a dance teacher, but now she's sitting behind the wheel of a huge Volvo. Once her father (who is also a truck driver) fell ill and the daughter decided to spend more time with him. She then got her license and became his co-driver.
MARSHALL PERRIN, A FIREFIGHTER
Marshall is a firefighter and lives in Canada. He loves sports and tattoos.
ADRIENNE KOLESZAR, A POLICE OFFICER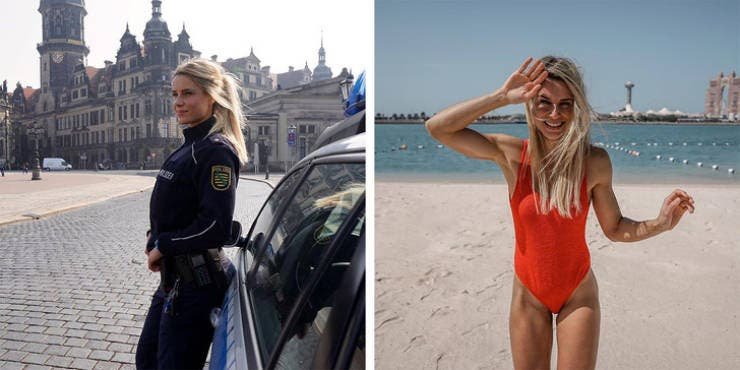 Adrienne Koleszar is a police commissioner and lives in Germany. She is 34 years old, she loves sports and maintains a blog. She said, "Yes, sometimes my job is really difficult, I have to deal with incidents that no one would really want to see. "
TANTIN MENESES, AN AUTO MECHANIC
Tantin Meneses is 22 years old and lives in the Philippines. She graduated from university with a special degree in "auto mechanics". Since then, she has been working in an automotive service center in Pampanga. Meneses said, "I didn't expect people to start paying attention to my appearance. I just want to work with cars. Dirt, oil, and manual labor don't bother me. I actually love it. "